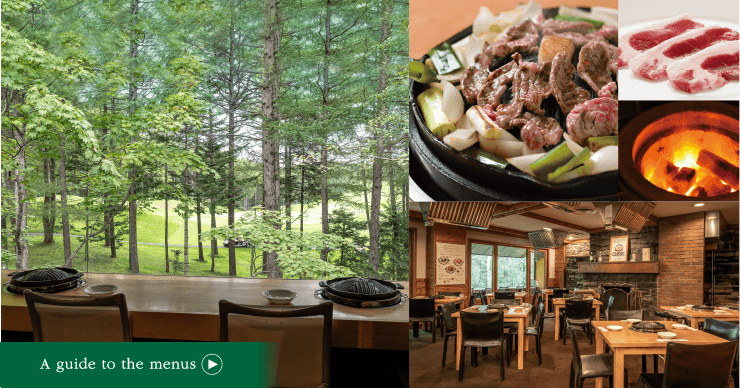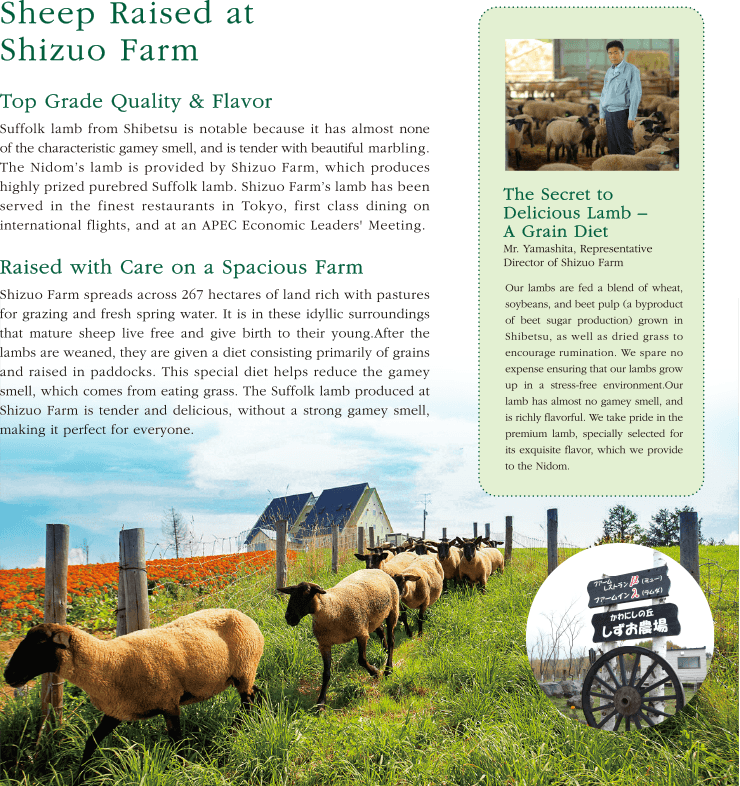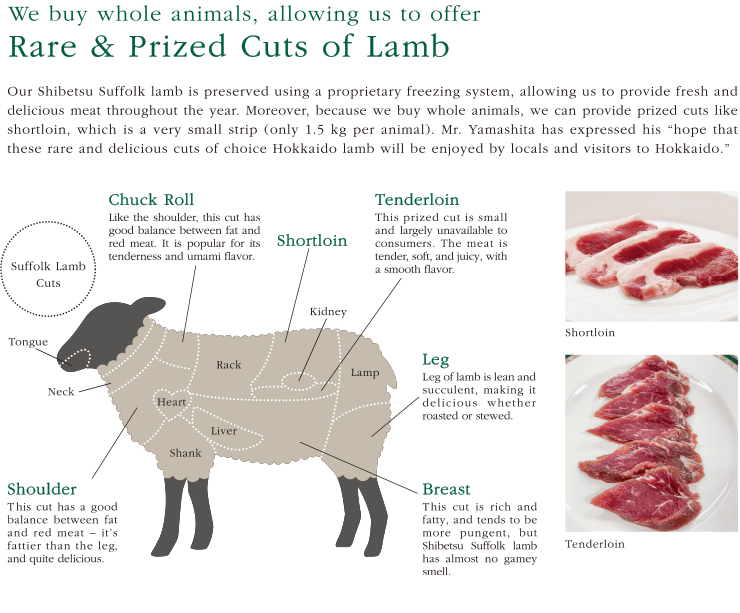 Genghiskhan (A popular barbeque style of Hokkaido with lamb and vegetables)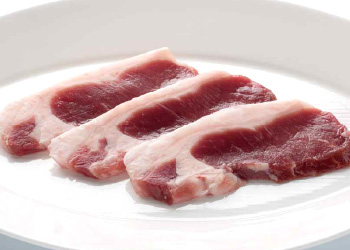 Suffolk lamb short loin
from Shibetsu-cho Hokkaido
70g :2,420yen (including tax)
Sweet and tender high quality
lamb from Hokkaido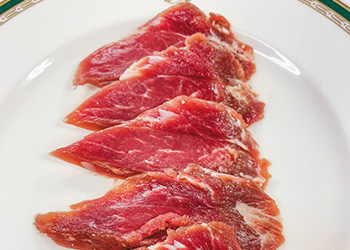 Suffolk lamb fillet meat
from Shibetsu-cho Hokkaido
70g :2,530yen (including tax)
The finest quality Suffolk lamb
bred on Hokkaido Shibecha-cho farm
(Available in a limited number)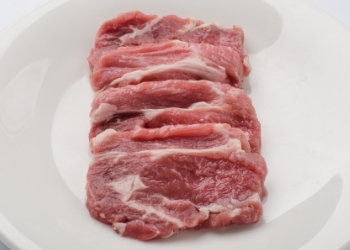 Texel sheep hogget chuck roll
from Yotei Hokkaido
70g :2,530yen (including tax)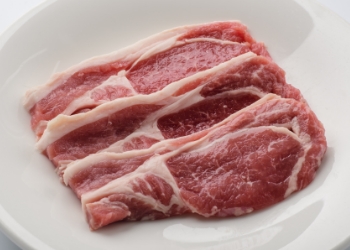 Texel sheep hogget short loin
from Yotei Hokkaido
70g :2,420yen (including tax)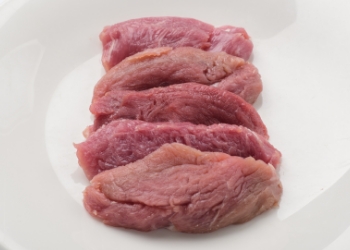 Texel sheep hogget fillet meat
from Yotei Hokkaido
70g :2,530yen (including tax)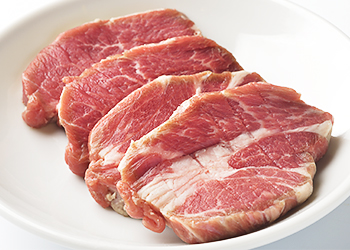 Extra fine quality lamb
served for Genghiskhan
1,320yen (including tax)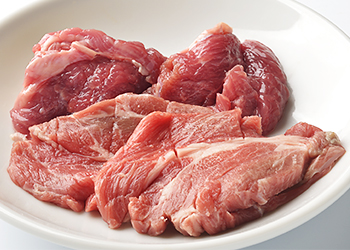 The choicest lamb from Hokkaido
served for Genghiskhan
1,980yen (including tax)
Dish of vegetables (onions and Japanese leeks)

440yen (including tax)

Home-made squid Sansho-zuke
(Famous Hokkaido local specialty. Squid with soy sauce, malt and green chilies,marinated for 3years)

440yen (including tax)

Kim chi (Spicy Korean style pickled vegetables)

660yen (including tax)

Asazuke (Japanese style quick pickled vegetables)

385yen (including tax)

Rice (A bowl of Yumepirika rice)

330yen (including tax)

Entrée

550yen (including tax)

*Entrée will be served to all customers entering after 5pm
Drinks
<Beer>
Sapporo Classic draft beer (Exclusive to Hokkaido)

Small tankard:825yen (including tax)/ Medium tankard:990yen (including tax)
<Whisky (on the rocks/with water/with soda)>
Taketsuru Pure Malt

single:1,320yen (including tax)/ bottle:26,400yen (including tax)

Taketsuru Pure Malt (17-year-old)

single:3,850yen (including tax)/ bottle:77,000yen (including tax)

Yoichi single malt

single:1,430yen (including tax)/ bottle:28,600yen (including tax)
<House wine>
MoËt & Chandon Brut ImpÉrial (champagne)

Bottle:19,700yen (including tax)

Mikasa Yamazaki Chardonnay (white)

Bottle:15,400yen (including tax)/ Glass:2,310yen (including tax)

Reserve De La Comtesse (red)

Bottle:25,300yen (including tax)

Mikasa Yamazaki merlo (red)

Bottle:15,400yen (including tax)/ Glass:2,310yen (including tax)

Meursault (white)

Bottle:28,600yen (including tax)

Yoichi Zweigeltrebe (red)

Bottle:9,350yen (including tax)
<Japanese sours (mixed with shochu white spirit)>
Sour cocktails (lemon/cassis/grapefruit/oolong tea)

770yen each (including tax)

Haskap sour

880yen (including tax)
<Shochu(white spirit) (on the rocks/with water/with soda)>
Tomi no Houzan (sweet potato)

Bottle:9,900yen (including tax)/ Glass:990yen (including tax)

kicchomu (barley)

Bottle:9,900yen (including tax)/ Glass:990yen (including tax)
<Premium shochu (white spirit) sold by the shot>
Mori Izo (sweet potato, Kagoshima;)

Glass (45 ml):1,980yen (including tax)

Maou (sweet potato, Kagoshima;)

Glass (45 ml):1,540yen (including tax)
<Soft drinks & Alcohol Free>
Oolong tea

550yen (including tax)

Cola

550yen (including tax)

Ginger ale

550yen (including tax)

Sapporo Preimium Alcohol Free

660yen (including tax)
*The restaurant is also open to the general public, so why not drop by?
*As well as Genghis Khan barbecue, other dishes are also available.
【The Genghis Khan corner】
Genghis Khan is a typical Hokkaido delicacy.
Nidom's choice lamb grilled on a special hotplate over a charcoal grill and eaten with exclusively prepared sauce.
Enjoy the meal along with the invigorating scenery of the Nispa Course.
| | |
| --- | --- |
| Open hours | 10:00–20:30 *Last orders at 20:00 (times may change according to the season) |
| seats | Seating for 28 indoors and 6 on the terrace *Reservations accepted |